Behind the Wall: An American in East Germany 1988-89
By Paul Gleye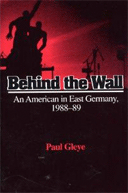 Medium:
Review date: 2012 August
Ken Zirkel's Reviewtest
Not exactly a best-seller, I found this book while browsing the stacks at a university library. However, it's not an academic book at all; it's a series of personal anecdotes of encounters with everyday folks in East Germany right before unification. It covers the time period 1988-89, before the fall of the DDR, and was written some time later, with the author's reflections about unification.
It's an engaging account of a year spent by an American teaching in East Germany. Paul Gleye is a professor of architecture whose specialty is historic preservation. He spent a year in Weimar, in Thuringia. His observations of both the good and the bad aspects of communist East Germany are fascinating and thought-provoking. Most of the book is composed of anecdotes of what it was like to go shopping, to travel, to make phone calls, etc in the DDR. The author also gets into some philosophical discussions with citizens of the DDR ranging from communists to revolutionaries about what works, what doesn't work, and what can be done about it.
All-in-all, readable and eye-opening. It really gave me a sense of what life was like in East Germany, something about which I really knew nothing before.