The Clockwork Universe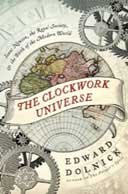 Medium:
Review date: 2011 July
Ken Zirkel's Reviewtest
I picked this up after hearing the author appear on WNYC public radio. Dolnick was so enthusiastic and interesting, I a hold on this book at my library right away.
This is a superb idea for a book: not just a history of science, but a history of the scientific method. It's about the age when thinkers stopped prioritizing "knowledge from authority" and started developing methods for experimentation and discovery. For over a thousand years, it was taught that good, intelligent people derived their understanding by reading the words of Aristotle and the ancients. To question for yourself was viewed as crass and uneducated. "New" was suspect; "old" was revered. But that changed when a small band of thinkers including Hooke and Newton started taking the initiative to discover things for themselves, and the society of natural philosophers in England slowly created a system for investigation, discovery, and confirmation that we now call "science".
This book is extremely well-written, evocative, accessible, fascinating. In quick, relatable prose he tells (or reminds) the reader what it is like to live in 1600s London in so many ways (Shakespeare's Globe theatre was built to seat 2000 people but had not a single toilet).
It was been a long time since i've come across a book which is so engrossing, easy to read, and informative.